Jungle Park
is inscribed in a perspective of sustainable development linked to sporty, thoughtful and responsible program of eco-tourism.

The camp is a  humanitarian and scientific tourism centre located at the very opening of a world of adventure in the natural park of
"Ambohitra Antsingy"

,  at the heart of "La vallée des perroquets" (Parrot Valley).

This camp is also an interpretation centre for environment : here we work with local communities for the   management of seedbeds, community kitchen gardens,  reforestation, irrigation, schooling…
The accomodation is located in a unique environment, either in Ecodome, house build with earth (Jungle Lodge) or in the Tree House (JungleCamp)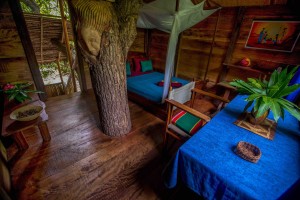 above the river, with a view on the Natural park of "La Montagne des Français" which is a historical place where you can also rest, watch and experience new adventure

s !!!

Our passion is environment so we live in the forest to protect it and watch it as best as we can.
We have built dry restrooms, organic showers and kitchens, solar lightning and ovens…
       
The Jungle Lodge is a natural welltness center in the heart of the Nature, with this natural swimming pool, Jacuzzi, Hammam, Mud bath, podiatrist lounge and lounge massage.
   
This place is an incredible starting point to a huge variety of activities as well as a world-famous spot for climbing, trekking, moutainboarding, bird-watching etc.

Just experience here the jungle in a different way.
We also evolve here in a forest of unusual dimensions where the endemic rate is more than 90 percent. Just follow the guide…


Opening to 1 March to 31 December ( Close during the rain saison)